Jurassic World: Dominion Dominates Fandom Wikis - The Loop
Play Sound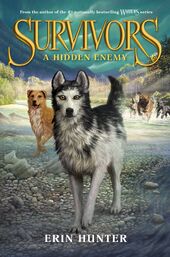 The cliffnotes below detail events in the book as they occur.
Lucky, who is Yap at the time, is hunting a beetle.
He's pretending he's a warrior of Lightning.
He hears a howl and retreats to his mother.
His Mother-Dog comforts him.
His Mother-Dog tells him that it is a wolf howl.
She makes the difference between wolves and dogs, that they were cunning and dishonorable.
Squeak announces that she bet she could outsmart a wolf.
Her Mother-Dog scolds her, saying that she should not stoop to a wolf's level of deceit.
Snip states that when it howled, it sounded a bit like a dog. Their Mother-Dog then tells them that wolves and dogs are connected.
The Wild Pack is attacking the Leashed Pack.
Lucky finds out that he had led his friends to poisoned water, and into the territory of another pack.
Bella is trying to keep the Leashed Pack together.
Lucky uses his senses and doesn't rush right into the battle, as he knows that would do no good.
Lucky, out of the shadows, sees the Wild Pack's Alpha, and finds that he is a half-wolf. Alpha isn't joining the battle but barking out orders.
A dark-furred dog is watching Martha carefully, but Lucky sees that her leg is wounded badly.
Lucky is about to strike but then sees Alfie yelling at Alpha. Then Alfie sees Lucky, and the sight of him gives him the courage to attack Alpha. Alpha sends Alfie down with a single blow.
There is a massive tear in Alfie's side, and Lucky is horrified.
Then Lucky was thrown backwards, and the whole world is shaking. He realizes it's another Big Growl. The fight stops and Alpha calls his pack away.
A tree cracks and rolls away. Lucky sees both the Wild and Leashed packs running away in terror.
Lucky wants to run after his friends but it was too late, another tree is about to fall on top of him. He lands awkwardly in the dirt as he tries to run, and he hears the tree about to fall on him.
Lucky glimpses a rocky overhang and quickly hides under it just as the tree falls.
Lucky saves Sweet from a crack in the ground
More coming soon
Coming Soon
Coming Soon
Coming Soon
Coming Soon
Coming Soon
Coming Soon
Coming Soon
Coming Soon
Coming Soon
Coming Soon
Coming Soon
Coming Soon
Coming Soon
Coming Soon
Coming Soon
Coming Soon
Coming Soon
Coming Soon
Coming Soon
Coming Soon