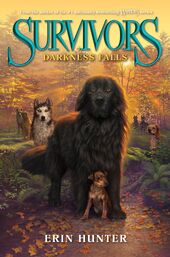 The cliffnotes below detail events in the book as they occur.
It is raining heavily outside, and there is lightning and thunder.
Yap and his littermates are scared. Their Mother-Dog comforts them that it is only Lightning and the Sky-Dogs play-fighting.
Lucky and his littermates go to sleep
Lucky wakes up and sees his Mother-Dog sitting farther away, thinking.
He sits with her and guesses that the Sky-Dogs aren't play-fighting, and she confesses that she is afraid that they may have sensed a danger.
Yap thinks about this as he and his Mother-Dog go back to sleep.
Coming Soon
Coming Soon
Coming Soon
Coming Soon
Coming Soon
Coming Soon
Coming Soon
Coming Soon
Coming Soon
Coming Soon
Coming Soon
Coming Soon
Coming Soon
Coming Soon
Coming Soon
{{CS}
Coming Soon
Coming Soon
Coming Soon
Coming Soon
Coming Soon
Coming Soon
Coming Soon