Jurassic World: Dominion Dominates Fandom Wikis - The Loop
Play Sound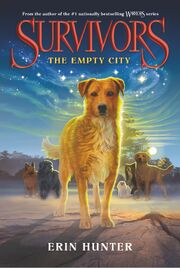 The cliffnotes below detail events in the book as they occur.
Lucky's mother dog tells him about Lightning and the Sky-Dogs.

She warns them about the Storm of Dogs.
Lucky wakes from his dream.
He and Sweet are trapped in the abandoned Trap House.
The Big Growl occurs.
After a small journey, they fall asleep.

Lucky wakes up, and so does Sweet.
She asks him about his paw's condition, which is getting better.

Lucky notes that the loudcages were gone.

Lucky explains what loudcages are to Sweet, since she is oblivious.

The two search for food and talk about what their next move is.

Sweet wants to start a Pack, but Lucky doesn't.

She starts to talk about her old life in her former Pack, but the longpaws had ruined it.

Lucky sympathetically murmurs that her Pack was in the Trap House.

In realization, Sweet wants to go back and rescue them.

Lucky is able to convince her that they were dead.

As they are continuing onward, Lucky explains that he's a Lone Dog, but Sweet believes every dog needs a Pack.
They run towards the source of food when they scent something.

Sweet doesn't like the idea of scavenging.
Lucky remembers the Food House, telling Sweet about it.

They both set off to find the Food House.
Sweet tries to persuade Lucky that other dogs are nearby.

Lucky is frustrated on why she is so intent on finding other dogs and creating a Pack.
He tells her they are too far away.
Sweet responds that she could catch up to them.
Aggravated, he begins to think that he should allow her to leave, since she's so determined to find a Pack.

Finally, she allows the topic to subside as they are deeper in the city.
Lucky finds strange creatures scavenging for food.

Sweet assures him that they were only raccoons; they would only threaten if bothered.

They near the Food House, making Lucky excited. 
As he tells Sweet more of the Food House, he mentions Old Hunter. She thinks Old Hunter is a Packmate of his, but he tells her that he didn't have a Pack; Old Hunter was only a friend.
When longpaws don't answer, Lucky goes inside to check it out.

He finds the longpaw that feeds him, and is upset of his condition.
The longpaw pats Lucky's head, and Lucky licks him. The hand falls down, and the longpaw dies.
Sweet yelps and runs away; she is panic-stricken and begins to run into things.

Lucky pins her down and tells her that death is a natural thing.

After Sweet calms down, Lucky lets her go.

Sweet says she is going to start a Pack and leaves.

Lucky doesn't follow. He stays and tries to lick up some crumbs to eat.
He then decides to leave the Food House.
Lucky begins to doubt that he should have gone with Sweet.
He goes down an alley and spots a sharpclaw.
The sharpclaw and Lucky face off.

The sharpclaw jumps on a loudcage causing it to start growling.
Both Lucky and the sharpclaw run.

Lucky runs into another sharpclaw while running.

Lucky jumps on the sharpclaw. The sharp claw runs away.

Lucky walks to the outskirts of the city.

He smells meat and follows it to a Longpaw and his Fierce Dog.
He steals the meat causing the Longpaw and the Fierce Dog to become very angry.

Lucky runs away, positive the Fierce Dog was following.
He comes upon a big crack and jumps over it. He reopens his paw wound in the progress.
Lucky finds a loudcage to sleep in and eats some old longpaw food.
He falls asleep.
Lucky has a nightmare about the Storm of Dogs.

He wakes up thinking of Sweet.

He is ravenous, and he begins his journey.
A crow arrives just before a huge loudcage comes up.

A longpaw emerges from the loudcage.

Lucky tries to beg for food but the longpaw waves him away.
Lucky wanders into a mall.
Lucky scents meat and tracks the scent through the mall.
He finds his friend, Old Hunter, is guarding the meat.
Old Hunter then lunges for Lucky's throat.
Old Hunter pins Lucky down.

Old Hunter realizes the dog he pinned down is Lucky and lets him go.

Lucky is excited that he found a friend, however, Old Hunter doesn't allow Lucky have any meat.
Lucky tries to persuade Old Hunter to let him have some meat.

Old Hunter still refuses.

Lucky then spots a wire about to touch a pool of water nearby Old Hunter.

He shoves Old Hunter away from the water.

Old Hunter gives Lucky meat in return for saving his life.
The dogs talk while they eat.
Lucky offers Old Hunter to team up for awhile.

Old Hunter refuses, but gives Lucky meat before he leaves.
Lucky settles down to sleep.
Foxes ambush behind some boxes and threaten Lucky.

The foxes circle Lucky, eyeing his meat.
Lucky charges the leader fox and runs away.

The foxes chase him through the mall.
Lucky hides under some boxes and ends up trapped between the foxes.

Lucky bolts out from under the boxes and runs to a counter.

He leaps onto the counter and the foxes taunt him, saying they will wait it out.
A group of dogs come and help fend off the foxes.

While this is happening, Lucky is worried the group of dogs won't be able to defeat the foxes.

The dogs manage to drive off the foxes.

Lucky thanks the dogs for saving him.

A golden dog discovers that Lucky is her brother and calls him by his pup name Yap.
Lucky then remembers her - Squeak, his sister.

Squeak and Yap tell each other their new names, Bella and Lucky.

Lucky realizes that the dogs are Leashed Dogs.
Lucky shares his meat with the dogs.
Bella introduces Lucky to the other dogs while they eat: Bruno, Mickey, Sunshine, Martha, and Daisy.

Sunshine finds out she cut her paw in the fight with the foxes; Lucky helps heal her paw by telling her how to take care of it.

The other dogs look at Lucky as if he is Alpha.
Uncomfortable, Lucky doesn't want to be their Alpha and leaves the Pack.

Bella finds Lucky again and persuades him to stay for a while.

The dogs are so excited that Lucky was staying, they play-fight for a long time.

When the dogs settle down to go to sleep, Bella and Lucky tell each other about their longpaws.

Lucky falls asleep.
The next morning, the other dogs decide to go back to their homes next morning.

They explain to Lucky that they still live in their longpaws' houses even though they disappeared.

After some pleading, Lucky decides to go with them.
The Leashed Dogs lead Lucky to their houses; they tell him about how they used to hang out.

The Leashed Dogs say their farewells and go to their houses.

Lucky notes that the houses look unstable, and dangerous.

Bella leads Lucky to her house.
Lucky tries to open the refrigerator, but couldn't.

Bella and Lucky settle down to sleep.

Lucky says he could not sleep since the house seems unstable.
Bella assures it is fine, but she has some doubts.

The ground starts to tremble; Lucky and Bella retreat from the house.

The other Leashed Dogs are there too, and Lucky calls them over.

Lucky gets the feeling that the dogs think he is their Alpha.
The ground stops shaking.

A house next to Bella's falls down.

The dogs are distressed because their friend Alfie is in the fallen house.
The Leashed Dogs tell Lucky who Alfie is.

Lucky and Bruno are the only dogs willing to help Alfie.

Lucky and Bruno find a window but can not get in since it has wire mesh on it.
A tree next to Alfie's house falls down, nearly landing on Lucky.
Lucky retrieves a soft-hide from Bella's house.

Lucky and Bruno use the soft hide so it does not hurt their gums, while tearing the mesh.

Lucky and Bruno enter the house and find Alfie trapped.

They rescue Alfie and bring him to the other Leashed Dogs.

The Leashed Pack is guilty they did not help Alfie.

They begin to bicker over who did not want to help and who did.
Lucky takes Bella to the side and they argue over if they should have helped Alfie or not.

Sunshine discovers Daisy has disappeared.
The Leashed Dogs are panicking that Daisy is gone.

Lucky, Bella and Mickey sniff out Daisy.
Lucky smells something foul and orders Bella and Mickey stay behind.
Lucky becomes dizzy and light-headed.

Lucky finds Daisy and grabs her by the scruff.

He takes Daisy to the Leashed Dogs.

Daisy is knocked out and not breathing well.
She wakes up and explains she left and thought she could follow the scent coming from her house.
Lucky says the dogs must leave the longpaw houses.

Bella viciously disagrees.

Bella and Lucky argue until Lucky points out that he helped the dogs, not their longpaws.

Finally deciding to leave, each of the Leashed Dogs grab a longpaw memento from their house.

The dogs set off.
The dogs come across a river.
Lucky tells the dogs it is poisoned because he smells a bad smell.
Lucky grabs him by the scruff and pulls him out.
The river is green and stagnant.
The dogs come across some Longpaws.
The Leashed Dogs become excited.
Lucky tells them the Longpaws in the yellow suits aren't friendly.
Daisy runs after the Longpaws and the rest chase her.
Daisy reaches the Longpaws and circles around their boots.
When the Longpaws ignore her she tugs on ones pants.
Then the Longpaw shakes her off and walks away.
Daisy wants to follow it but the rest of the Leashed Dogs circle around her.
Mickey tells Lucky that he doesn't like the new Longpaws and it gives him a bad feeling.
Lucky looks down on the dead city.
Sunshine gets stuck in a thorn bush and Lucky helps her out.
All the Leashed Dogs complain a lot.
Bella is in a very bad mood, snapping at every dog.
Lucky thanks Mickey for making sure all the dogs are present and no one gets left behind.
Lucky and Mickey begin to talk about their Longpaws.
Lucky smells a river and tells the others about it.
All the dogs become very happy, even Bella.
The Leashed Dogs ask Lucky to teach them how to hunt.
Then Lucky realizes that Bruno was struggling in the river.
Lucky prepares to jump in and save Bruno.
Martha does instead, she takes Bruno to the shore by his scruff.
The dogs are excited and happy for Martha.
Lucky gains hope that the Leashed Dogs may be able to survive without him.
Lucky has a dream that involves the falling Trap House foretelling an event that will occur soon. The Storm Of Dogs. Lucky blindly runs down a void following Sweet that leads into a dark street,where savage dogs hunt him.
Lucky wakes up in terror. The dream felt too real.
He watches the Leash Dogs sleep.
They settled down in a low sheltered hollow by the river.
Lucky feels self-conscious, ashamed of being scared by only pictures in his mind.
He wonders why his dreams are plagued by ghost-hounds and demon-dogs.
Lucky wonders whether the Leashed Dogs have clear dreams because of their longpaw belongings or their lack of dog spirit.
He notes his own dog spirit is awakening.
He concludes that the dreams could be the Spirit Dogs prompting him to teach the Leashed Dogs independence.
Lucky wakes the other dogs at the crack of dawn, insisting they must get used to early starts in learning to be good hunters.
They set off to hunt for breakfast.
They learn to be quiet and trick the gophers into coming out of their burrows.
The Leashed Dogs are not very good at being stealthy.
Lucky sighs at their lack of success, thinking they are wasting their time.
He announces they'll practice on bugs and beetles.
Daisy and Martha doubtfully try a beetle each.
The dogs go foraging for bugs instead, after finding them to be rather nice.
However, the bugs are not filling the dogs' empty stomachs.
Mickey shyly gives Lucky a strategic idea on catching any game in the area.
Lucky is impressed, praising Mickey for the inspired idea.
Lucky notices the dogs are willing to try the idea, and are losing their longpaw softness.
Lucky watches the Leashed Dogs give chase on a slab of rock at the edge of the wood, deciding not to interfere.
Daisy wastes energy barking her excitement.
Lucky points out inwardly that she needs to calm down.
Daisy makes a wild pounce-and-grab and catches the rabbit.
The rabbit struggles out of her grasp, but the other dogs are on it in an instant.
With the help of each dog, they secure and kill the rabbit.
They congratulate one another as Lucky tears it into portions.
Lucky is given hope for the Leashed Dogs, that this was further proof that the dogs have some instincts for survival.
Lucky thinks that Mickey's dog-spirit is waking inside of him.
He notes that if all dogs followed Mickey's example, they had a chance of becoming a true wild Pack.
The Leashed dogs agree the camp is perfect and decide their next move.
Lucky insists they stay alert even with the ideal shelter. Alfie disagrees.
The Leashed dogs gather soft leaves to soften the pebbly campground in a big bed.
Lucky decides to match the dogs into roles.
Martha and Bruno are chosen to be watch dogs.
Mickey is chosen to hunt alongside Bella.
Daisy, Sunshine and Alfie are chosen as good scout dogs.
Lucky forms a group of Daisy, Sunshine, and Alfie to scavenge the old longpaw places.
Alfie suggests going back to the field with the longpaws. Lucky disagrees and reassures a nervous Daisy they will avoid them and go around to scavenge for things the yellow longpaws left behind.
The dogs set out initially going up a shallow slope into a grassy plateau.
They come across an small wooden longpaw house that looks deserted.
Lucky asks his group to sniff the ground for fresh scents. Sunshine drops her yellow leash to join in.
The four dogs investigate a broken wire fence.
Lucky breaks into the building by breaking the splintered wood door.
The dogs hackles raise. The inside of the building smells like gasoline.
The dogs find a loud cage (car) in the building and debate if it will wake.
Sunshine demonstrates her knowledge of longpaws by confirming it is dead.
Lucky breaks into the door of the loudcage with the help of Alfie.
They scavenge the car's interior leather(tanned skin) and a blanket (soft-hide) to carry it back to camp.
The rest of the pack greets them and their haul back at camp.
Alfie weaves the soft hide and pieces of skin into the bed of leaves.
Mickey and Bella announce they caught a squirrel and a rabbit.
Martha the watch dog announces that she found a cavern underneath a flat rock and some tree roots. They all agree they can use it for storing food.
The dogs congratulate themselves for the productive results and divide the prey caught.
Lucky notices the sky is gray and bleak.
Lucky decides to offer a squirrel leg to the Earth Dog, much to the initial protests of Bruno.
The Leashed dogs decide to call their new storage box a "river-store" instead of a "coldbox", to make it more doggish.
The dogs take shelter from sudden rain and discover their shelter works well to protect them.
Lucky discovers the water is clean and fresh, not acid rain. The dogs rejoice and celebrate in the refreshing water.
Lucky relaxes in the sun and realizes their new home is perfect.
Lucky concludes that he will leave the pack until the others can survive and thrive.
Lucky is woken by Daisy impressing him with another beetle catch.
Instead of a beetle however, it's a mole.
Lucky licks her nose admiringly and sniffs at the tiny prey.
Bella, Bruno, Alfie, and Martha gather around to admire her catch.
Lucky exchanges an affectionate glance with Bella.
He thinks that Bella has a great deal of good sense and instinct, and would be a good leader once he moves on.
In the last few days, the dogs were becoming more organized and Lucky stepped back to let Mickey gain leadership experience.
Lucky held down the mole and let Daisy divide it.
Daisy thanks Lucky for her new hunting ability.
Sunshine interrupts the party with her barking, alerting them that Mickey's been trapped and is choking by his collar.
The dogs follow Lucky and Sunshine.
Lucky urges Mickey to not move as he rakes aside the thick branches.
Mickey's collar is trapped tightly by a thicket of thorns.
Bella grabs Mickey's collar and she and Lucky push Mickey backwards until he's freed from his collar.
Mickey shoes his nose into the collar and tries to put it on.
Lucky barks that the collar is the reason he was stuck, insisting all the collars should be removed.
Lucky seizes Bruno's collar, shaking him around easily to show the other dogs.
Lucky insists that Daisy doesn't have a longpaw now after Daisy gives a firm speech about her collar.
Mickey intervenes, saying he'll find his longpaws again and won't give up.
The tension is broken by Alfie finding them.
Alfie says he found lots of dogs after a long walk over the hills and valley.
The other dogs are excited.
Alfie says he smelled lots of food too.
Sunshine yaps they should introduce themselves while Mickey and the others agree to investigate.
Lucky intervenes, asking Alfie if what kind of dogs were they. He explains that Wild Packs will defend their territory and will not share their food.
Bruno insists there's no harm in looking, but Lucky disagrees, earning him a tease by Bella on how cautious he is.
Bella divides a small group to investigate with her: Daisy, Alfie, and Lucky.
Bella says they'll get moving soon, making sure her loud voice tells Lucky who's the real leader.
The scent of the dogs is dark, bitter and musky reeking of anger.
The others are not bothered by this observation.
Lucky sees the broad valley below is dotted with longpaw buildings that looked like short homes for dogs with dog-sized doors.
They exclaim at all the food bowls.
They hear a click and more water and food fill the bowls.
Lucky feels unsettled by the lack of dogs, his gut telling him to run.
Alfie finds a hole to get in, Daisy volunteers to dig it deeper.
Lucky confesses his feelings about the danger here.
Bella snarls, saying she is the Alpha of the pack. Lucky and Bella bicker.
Bella leaves Lucky outside the fence while she and the others go inside for the food.
Lucky is sure they are in danger.
He heads for the hole in the fence.
When Lucky is on the other side, he seeks clues to the whereabouts of the missing dogs.
He notes the three dogs are gorging themselves without being quiet or careful.
He sees a group of ferocious-looking dogs approach.
The dogs are heading towards his group but have not seen Lucky yet.
Daisy and Alfie submit, however Bella is still standing proud in defiance.
The Alpha of the Fierce Dogs asks how they got in here.
Bella lies and says they jumped over the fence.
The fierce dogs don't question the obvious bluff, leading Lucky to question whether they're very smart.
The Alpha announces the dogs are their prisoners now and Bella and the others are herded into the big house.
Lucky darts from the cover of the tree towards a cracked wall and slinks into the shadow.
He observes the big building looks strong, as if it would hold until the end of the world.
He thinks of fleeing, but the idea of abandoning his friends stops him.
The Alpha Dog asks Bella where the other dog is.
Lucky realizes in terror that the dogs can identify his scent from the other dogs.
Lucky crouched under the best cover he could find.
Lucky rolled in some mess in the grass to smell like the Fierce Dogs.
He thought of running, but knew in his gut that they would catch him anyways.
He waited for hours, until the moon rose.
From his hearing, he knew they were held captive in a tiny room with one guard at all times.
Lucky was lost without ideas until he reminded himself he was a Lone Dog.
He steeled himself and thought of a cunning and stealthy idea.
He noticed how disciplined and precise the Fierce Dogs were.
He overhears three dogs decide what to do with them: kill or to give them a beating.
Blade, the third dog, says they won't leave until they told how they found the Fierce Dogs and how they got in, and where the fourth dog is.
Lucky willed himself to act, thinking that the dogs weren't the brightest.
Lucky crossed the grass between shadows, hoping they wouldn't catch a whiff of his scent.
He gave a wild deafening bark and leaped into the air. He spun, dropped to all fours and dashed in a circle.
Lucky howls, calling them stupid and crazy.
His jests work and the dogs race after him.
He hurtled along the fence away from the hole in the fence to draw them away.
Lucky accidentally bounces off wire and the dogs surround him.
Lucky backs up against the wire, thinking the savage dogs were going to rip him to pieces.
Blade is interrupted by a dog saying the prisoners are gone.
The Alpha turns around, snarling at Lucky to tell her if they were still in the compound.
Lucky insists he doesn't know.
Blade warns him that she'll kill him and his friends if he doesn't speak.
Lucky sees past her lie, knowing that Blade was going to kill him no matter what he did.
He gives in, thanking the Forest-Dog for saving his friend.
In his last thoughts, a crow interrupts him.
He recognizes it as the crow he'd seen in the city calling to him when he needed a kick of courage.
He realizes he's a Lone Dog, and he should start acting like one.
Lucky dives straight between Blade's forepaws, shocking her as Lucky snapped his jaws at her soft underbelly.
He was past them as he fled from underneath the Alpha, racing for the fence.
He wills himself to go further and get to the hole.
He struggled through the hole, bolting from the Dog-Garden.
He thinks the other dogs abandoned him, until Bella charges out of the undergrowth to greet him.
Lucky is praised and greeted by the others who all thank him for his heroics.
Bella apologizes for not listening to him.
Lucky accepts the apology wordlessly, but urges for them to leave as soon as possible.
Lucky glances back at the fence, knowing that Blade would be seeking vengeance for being outsmarted.
Lucky is sure that it will not be the last they hear of Blade.
Lucky wakes up, making out a pale gray line on the eastern horizon, the dawn.
He thinks the others had an uncomfortable night's sleep but Lucky insisted they lie low in the undergrowth until sunup.
He wakes up Daisy, asking her to alert the others.
At least the others understood the importance of caution, Lucky thinks.
They continue their trail, eager to put more distance between the Fierce Dogs.
Lucky says he doesn't think they've found the hole yet, but will try again in the daylight.
He realized it wouldn't be safe to stay in the camp and dreaded breaking the news.
Mickey greets them, Sunshine at his heel.
Sunshine asks what happened, but Lucky says he'll tell once they're all together.
The Leashed Dogs all listen, glad that their friends are safe.
Sunshine asks if they will track us back here.
Lucky says they won't find them here because they will be moving on.
All the dogs are stunned and Sunshine wails in protest.
Martha comforts Sunshine while Mickey says they won't find another place like this one as easily.
Bella breaks up the mourning and asks the dogs to pick up their longpaw things.
Lucky observes the dogs are different from when they last left, smelling of river water and trees instead of soap and longpaws.
He thinks that the Pack is nearly a proper Pack, since there are no more complains and nobody was whining about thorns in their fur.
He proudly concludes their dog-spirits are coming alive.
Lucky begins to crouch, the dogs follow his actions and Bella asks what's wrong.
Lucky says the field below them is where they saw the yellow longpaws.
Lucky observes the field's surroundings: smoke rising from the tower, sluggish streams of yellow-gray water and the roads beside the field stained with grimy suds.
Lucky shuddered and was glad they got away from the terrible place.
Ahead of them is a low building surrounded by wire, reminding Lucky of the Fierce Dog home.
A longpaw carrying a deer is about to enter the building.
Bruno dashes forward, barking a greeting while the others blew their cover.
The longpaw shot a bullet over the dogs' heads, leaving them stunned as it entered the building.
Lucky urges them to get away from the door but the others continue to scratch at it.
Lucky warns them it wasn't a yellow longpaw but it still gave them a warning with the loudstick.
Bella insists they stop greeting every longpaw since it is not their own.
The other dogs apologize for their hasty actions, and they head up the valley.
At the top of the hill, they see their old city and the shoreline.
The city is torn down and inhospitable.
Bella addresses the dogs, claiming it's a different world.
She says how a different world needs a different kind of dog.
Bella says they need to leave their longpaw belongings behind.
Bella insists they are the past after Mickey protests.
Lucky feels proud to hear his litter-sister tell them to listen to their dog-spirits.
The dogs protest together, accusing Bella that she doesn't understand just like her brother.
Bella insists they are not coming back.
Martha digs a hole, dropping her scarf in it.
Bruno followed with his cap, Alfie and his ball, and Sunshine with her glittering leash.
Mickey is the only one remaining.
He claims he'll carry the memories for the rest of the Pack.
Lucky padded away, letting the dogs howl and mourn their longpaws.
Lucky feels glad to be a Lone Dog again.
Lucky finds the valley in the following day.
He inspects the valley, where the Leashed Dog Pack could live.
The Leashed Dogs believe their longpaw offerings please the Earth-Dog much to Lucky's hesitation.
Lucky announces he's leaving, much to the protest of the pack.
Bella asks if he can stay one more night.
He accepts the request but warns them it won't change his mind.
In the new temporary camp, Lucky lays watching the dogs of his temporary Pack work.
He's proud of how far they came.
The dogs refused his help, saying he is their guest.
The dogs finish their hunting and ask Lucky to eat one of everything as the honored guest in their last meal together.
Lucky crunches on the beetle first, pleasing Sunshine.
He took care to tear small pieces from every single offering.
The other join in and they all wolf down the rabbit and deer.
They fall asleep and Lucky has another dream.
Instead of the Trap House, it's just black all around him.
Suddenly, dogs are fighting on another to the death in the Storm of Dogs.
All around him is fury, pain and terror.
He tries to lunge for Daisy, but his paws slip underneath blood that lapped at his paws.
Lucky wakes up in terror.
Daisy notices Lucky's terrified whimpers and asks him if he is alright.
Lucky informs her it was just a dream.
Daisy says sadly that she'll miss Lucky so much.
Lucky returns the confession, and stands up to give a proper good bye.
All the other dogs wake up to give him a good bye.
They all thank him for helping them so much and how they will miss him as a friend.
Lucky returns the gesture, thanking them for being his friends.
He bounds down the hill and leaves the valley before he could change his mind.
He's feeling happy until he hears violent barking.
Lucky realizes that it is another strange pack barking that this is their territory.
He glances at the crow in the branches ahead as it watches him. He turns around, feeling his pack need him.
He concludes his pack is in trouble and he bares his fangs for a fight.